About Force Tech
Welcome to forcetech.in! We are pleased that you're visiting our website to learn more about our company. Force Tech Security (India) Private Limited was incorporated in Sept 2000.

The Force Tech group provides security, safety, audit, training, OHS, EHS, L&D and host of other services pan India and overseas across all industry, businesses and Government initiatives. Force Tech has various service verticals including those in collaboration with Nvision L&D and Sheaco Services, all of which brings global expertise and experience to our offerings. Our group is a leader in our field and has capability to deliver international standard HSSE (Health Safety Security and Environment) services on-site anywhere and as per Client convenience.

Force Tech regards every one of its Clients as the very reason of its existence and business continuity. We further ensure that partnership with Force Tech is not a cost but an investment by our Clients that results in enhancing their business growth and profitability.

All Client sites, regardless of size or numbers of manpower deployment or revenue to be earned, receive individual focused attention towards benchmarking and attaining the highest standards of service delivery. Value additions, innovations, optimizations and cost-effective solutions with industry best practices are included in the overall package of services provided.

In the industry, Force Tech is reputed for its exceptional management integrity and fair policies that promote attracting high performing employee resources. This in turn also ensures consistency, whether it is in the staff that we position to man critical security posts and functions at Client sites or the facilitators that we provide for audits or to deliver training programs. For security guarding services, the company is duly registered with all mandatory Govt departments & licensing authorities.

Force Tech believes that facility security requires to be: (1) proactive (2) optimized (3) process-based working (4) demonstratively performing. This approach guides us in building physical security frameworks for Clients that are effective, workable, auditable and improvable.

As we laid down our standards at Force Tech for providing security, safety, training & audit services to various Clients, a company policy towards achieving them emerged, which has also become a part of our very ethos. It is in step with Force Tech's pursuit to be the 'best' rather than the 'biggest' in the market.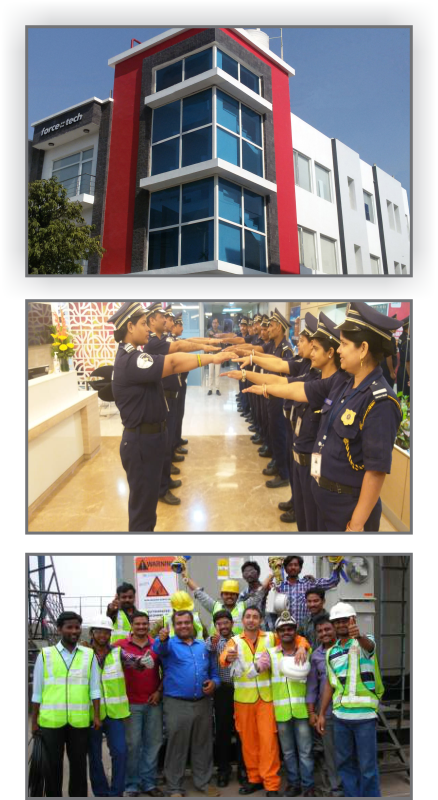 Our Business Strategy is to CONCENTRATE on business basics, REINVEST profits in the company's future, SELECT the right people, WORK diligently to build lasting partnerships with clients, and MAINTAIN a competitive pricing structure
Force Tech Training Facility & Centre of Excellence